Farming Hope's roots run deep, just like our carrot mascot! Our story begins many years ago at a soup kitchen called Casa Esperanza in the capital city of El Salvador. 
There, Maria Trinidad, "Trini," ran Casa Esperanza (Hope House), providing showers, safe space, and daily meals for dozens of locals who were without homes or money for food. She hired and supported a few folks each year from Hope House to live and work at her one acre farm an hour north, which grew food for the soup kitchen. Many went on to reunite with families, find meaningful employment, and pay it forward. One such person, Alvaro, went to medical school and later volunteered as a doctor back at the soup kitchen. Another, Ángel, returned to his native Guatemala to start a farm.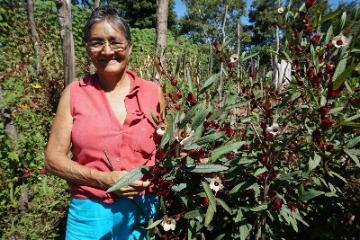 Trini in the hibiscus field on her farm, 2014 
Farming Hope co-founder Jamie Stark volunteered for Trini as an interpreter and assistant for two years. Trini's values, like getting to know folks as equals by starting with conversation well before action, are essential to Farming Hope's mission today. After two years working with Trini, Jamie told her, "I'll bring your ideas to the United States and make you famous there!" To which she characteristically replied, "Bueno." Although completely separate projects, the inspiration and information from the team in El Salvador remained an early teacher of Farming Hope's values as a Bay Area community group. Even the name comes from El Salvador – "Farming Hope" is a rough translation of Sembrando Esperanza (Sowing Hope), the name of Trini's women-led coop that sprung out of the soup kitchen.  
Co-founders Jamie Stark and Kevin Madrigal met as graduate students in a food systems class at The Stanford d.school. Kevin was hungry to find tangible ways to create good in the food system with knowledge from his Mexican heritage and studies in food-based community health. Jamie knew there was wisdom behind Trini's model of work and food accessibility, and he wanted to extend her ladder to those ready to climb in the Bay Area.  
In the first year of Farming Hope, we spoke with various nonprofit agencies to try and get hired to run garden and culinary training with more folks on their journey out of homelessness. Even though the idea was likely seen as a bit informal or early stage, we received a lot of feedback that encouraged us to continue on.  
Everyone involved in Farming Hope in the early days seemed to believe in a "there there." In particular, John Betts and Amanda Cole, Laura Cussen, Alex Lee, and Stu Richardson, the original team. We kept going with more cooking demos, dinners, garden events, building up relationships with nonprofits who saw a need for paid job training, and employers willing to hire program graduates. With our first formal Apprenticeship cohort, Philip, Jim, and Jesse, we began selling plant based foods (seasonal salads, roasted veggie sandwiches, pureed soups) with a pop up at the Heart of the City Farmer's Market alongside pop up restaurant dinners and garden volunteering.   
The food ethos of Farming Hope started from a very practical place: to highlight the foods we harvested from our gardens and to provide nutritious, filling meals that would sustain our community. Kevin was gifted a copy of the vegan Mexican cookbook Decolonize Your Diet written by Luz Calvo and Catrióna Rueda Esquibel (who later became our friends and supporters) and thus the journey to make Farming Hope a decolonial food program began. From early volunteer experiences and many Apprentice anecdotes, Kevin and Jamie both came to learn that in local free meal programs, quantity was normally prioritized over quality. Working as a chef with a background in nutrition, Kevin followed a few key principles: cook seasonally and from scratch, use more plant based proteins, and most importantly make it relatable and delicious!  
Several values from our early days have stayed ingrained in Farming Hope:
The universal need to be needed: Folks getting out of homelessness or poverty in San Salvador, Palo Alto, and San Francisco all referred one way or another to the integral role of belonging in community. Especially for folks who rely so much on various social services, having an opportunity to serve our community reminds us of our own humanity and belonging.
Sustainable, nourishing cooking: Chef Kevin made it a point to not only teach our community how to cook as a profession, but also as a way of sustaining a healthy lifestyle for ourselves and our planet.
Community gatherings: One of the most unique aspects of Farming Hope has always been the incredibly diverse dinners and events. A crucial goal has been ensuring no one feels they are wearing a "scarlet letter H" for homeless, and that all feel welcomed. Truly everyone must feel belonging at the table.
Social enterprise: We have always believed in selling our own product, not only to offset our expenses, but also to instill a self-sufficient model for graduates to experience first-hand.
In 2018, Jamie and Kevin with Holden Bussey bothered Manny of the famed Manny's community and gathering space in San Francisco's Mission District, to open their first job training restaurant in his new space. The partnership opened together on election night 2018, with Farming Hope serving food and Manny's serving drinks and community events.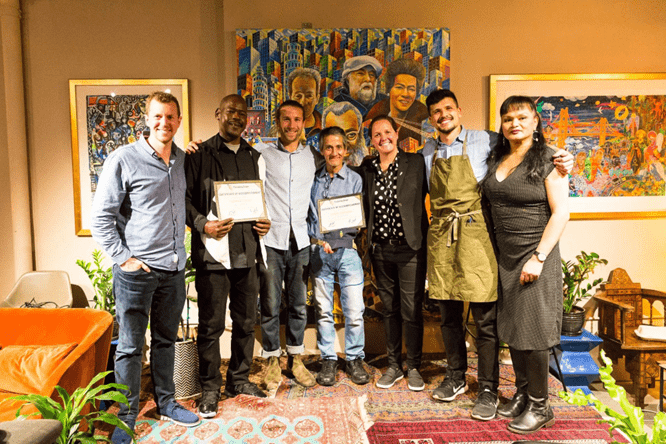 Celebrating a 2018 graduation at Manny's. L-R: Jamie, Thomas, Holden, Ronnie, Ave, Kevin, Glenda
Farming Hope has always been a community group that grows through strong relationships and identifying clear community needs. In 2020, Farming Hope temporarily took over Cala Restaurant, which had shut down at the outset of the pandemic, as the first home for our community food hub dubbed Refettorio San Francisco. This was thanks to the hard work of long-time Farming Hope advisor and General Manager at Cala, Emma Rosenbush, who had already been bringing together community and cuisine (watch A Tale of Two Kitchens on Netflix to get a taste).
As of this writing in 2023, we've employed and trained 95 Apprentices, cooked well over 150,000 free community meals, and hosted countless pop-ups and events. And most importantly, the legacy of being uncompromisingly human-centered lives and grows with each graduate. 
Both of us, Kevin and Jamie, are off to new adventures, and Farming Hope's community has new leadership with even better experience for the organization's next phase of growth. We couldn't be prouder of every single Apprentice, meal guest, and staff member who continue to help Farming Hope live out Trini's values: start with conversation and never forget that we are all equally in need of one another. We invite you to get involved, and be a part of Farming Hope's journey.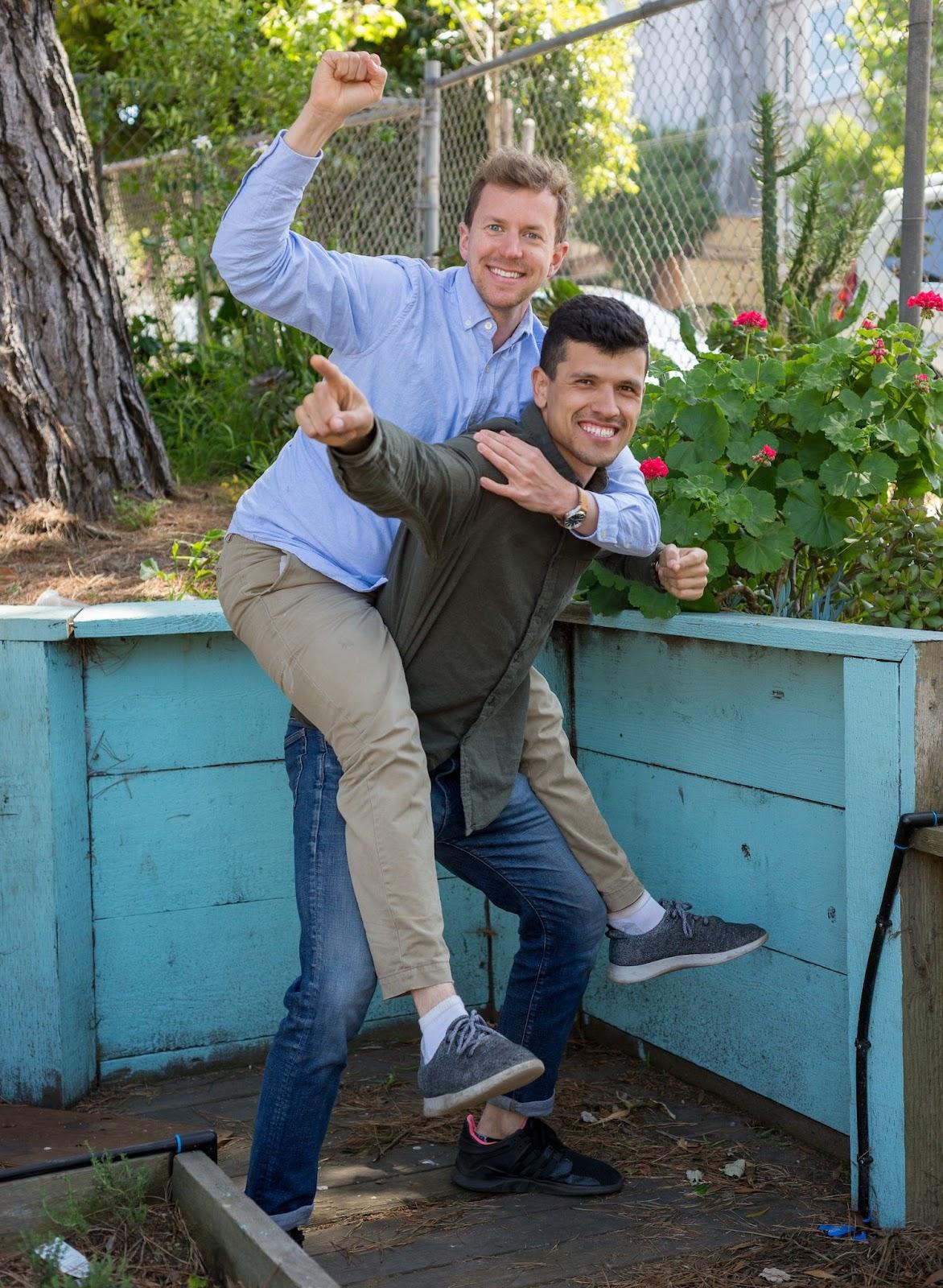 Jamie and Kevin horsing around in Farming Hope's training garden