Apprenticeship Program
Farming Hope offers a 12 week, part-time, paid apprenticeship program for folks facing barriers to employment, including former incarceration or homelessness. We provide our apprentices with on-the-job culinary training in our kitchen and our garden. We aim to provide a safe, supportive and environment that nurtures the confidence needed to truly feel job-ready, while also challenging folks to learn and grow. Former apprentices work in the food industry (restaurants, grocery stores, commercial kitchens, food manufacturing) as well as other careers.
The paid training is approximately 20 hours per week for 12 weeks weeks

Apprentices learn all the skills needed for high volume kitchen prep for the meals program at our community food hub Refettorio San Francisco
Apprentices have the opportunity to learn to make plated meals for our Wednesday evening in-house dinners and staff events

On weekends Apprentices spend 2 hours in our urban garden (see below).
If you are a case manager and interested referring a case management client to our program please click the button below to receive information about our next Open House and we will email you!
Application process:
 Attend Open House (next Open House will be the last week of July 2023)
Schedule an interview
Note that our next cohort will begin at the end of August 2023 and run through the end of November 2023.
Questions about our apprenticeship program? Email program@farminghope@org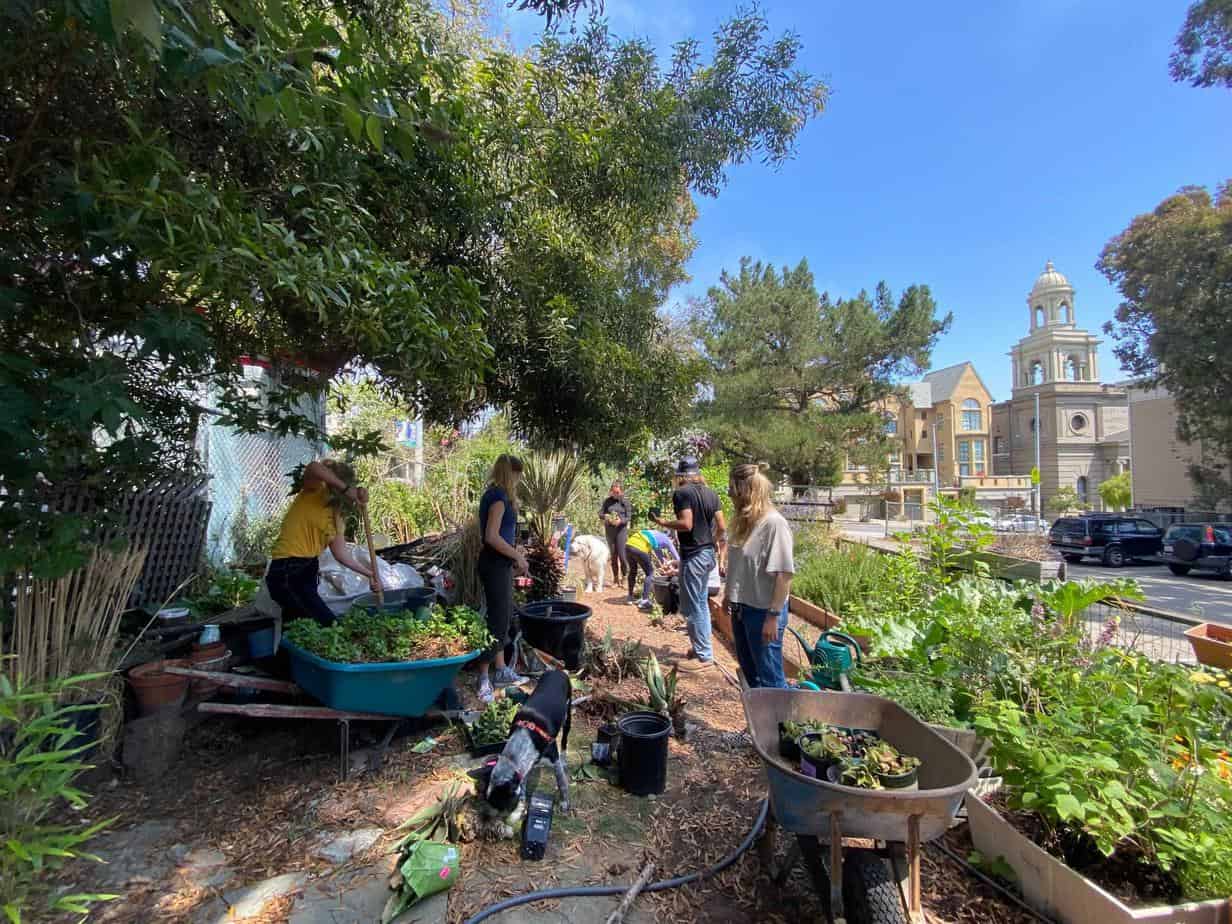 Growing food, Growing hope
Farming Hope operates a Training Garden on the corner of Divisdero Street and Eddy Street, where we provide apprentices, volunteers, and neighbors a supportive space to learn urban gardening skills while growing food for the community. In addition to growing food, the garden is also a place for horticultural therapy, connecting to the soil and to each other, by gaining a deeper understanding of where food comes from. As part of our job training, apprentices spend two paid hours every Saturday getting their hands dirty in the garden.
As part of our philosophy of sustainability, our garden has a "plant rescue," where plants that have been removed during landscaping and other yard work are put into pots and available to the community to adopt for free.
Interested in gardening with us? We welcome volunteers in the garden! See our volunteering page.
Employment Partners
The restaurants and food companies below have employed our apprenticeship graduates at their businesses, helping to create equitable workplaces in the food industry and beyond.
Join us in the fight
 Farming Hope is different — we pay Apprentices while they learn in our program.
Paying people makes sense, but costs dollars.